Pursuing Earth (2021) Short Film




Email macherno@buffalo.edu for password permission



This project is about inserting myself into my own project by referring to a past film while incorporating video production into a fictional narrative recorded as a faux documentary. Multiple camera models are used as means for eliminating synesthesia of narrative fiction films and instead embeds cameras everywhere placed by the main character, his crew, or internet devices. The whole style filmmaking is heavily influenced by the works of Richard Linklater's Slacker and A Waking Life. Additionally, the high-definition recordings are re-processed with modular video synthesis in order to create a dimension where the visual story stands-in with itself with double framing and texture compositions which reflect emotional states.

Reflecting on this project after its completion I am struck by the naturalism of performances we were able to capture despite a lack of behind camera direction. Something made possible by the great camera work and dedication by the crew and actors. Narratively I don't consider the short to be successful due to my flimsy dialogues and all too self-aware acting. However, it reveals my interest in screen watching, BTS video documentation, and remote cameras (CCTV, IP, Streams) surveillance where devices are documenting production of a narrative making the whole subject meta-narrative. For me catching real glimpses and recording the making of film is so much more interesting. The experimentation with double compositing of HQ and degraded video translations, color and value inversions also indicate my deeper interest in real-time processing of video signal which is not easily adaptable to recorded video playback but it does show off possibilities of texturizing video in ways that have been lost with digital video by going back to smaller picture ratios, off settled time and frame, and static noise received from devices.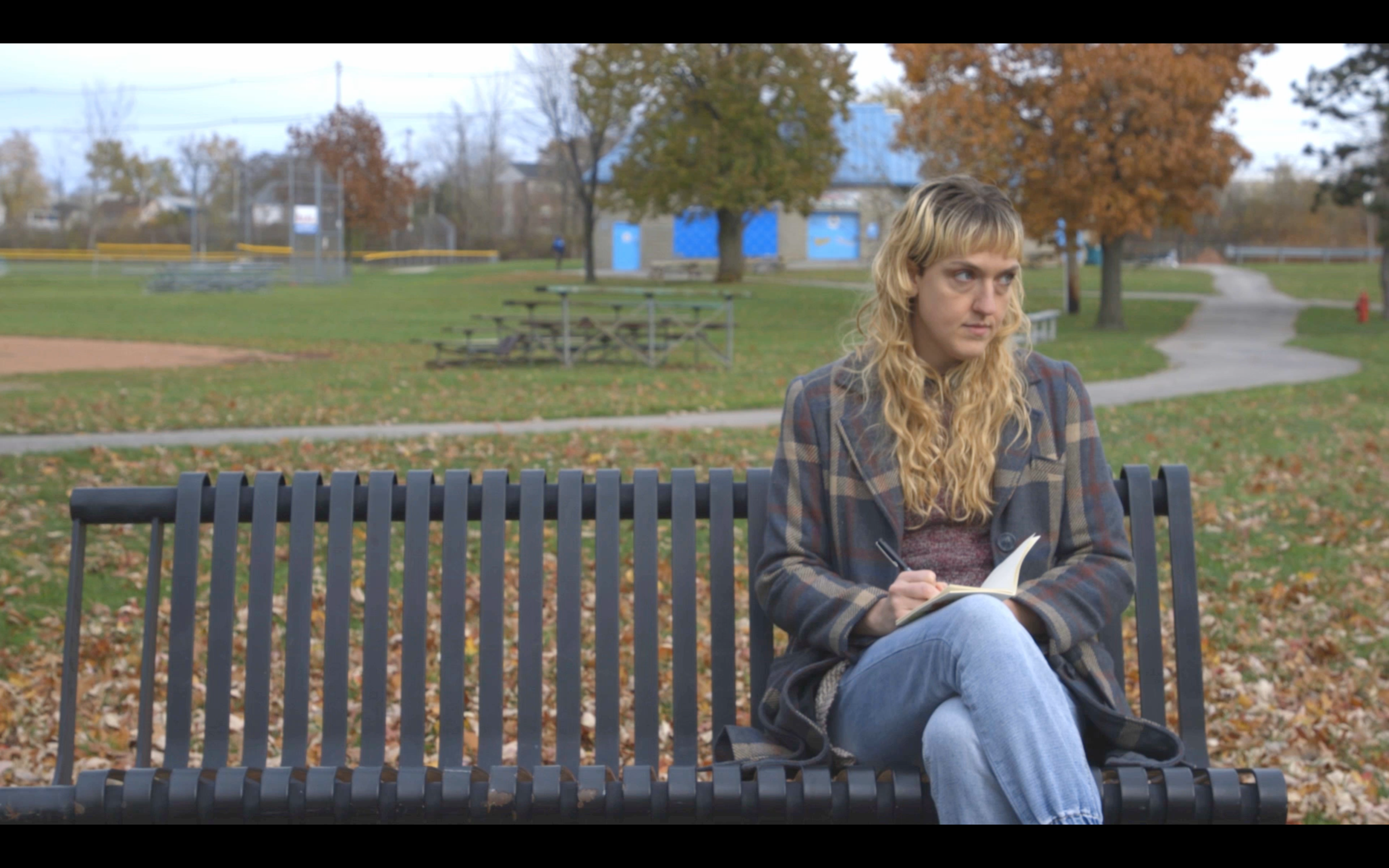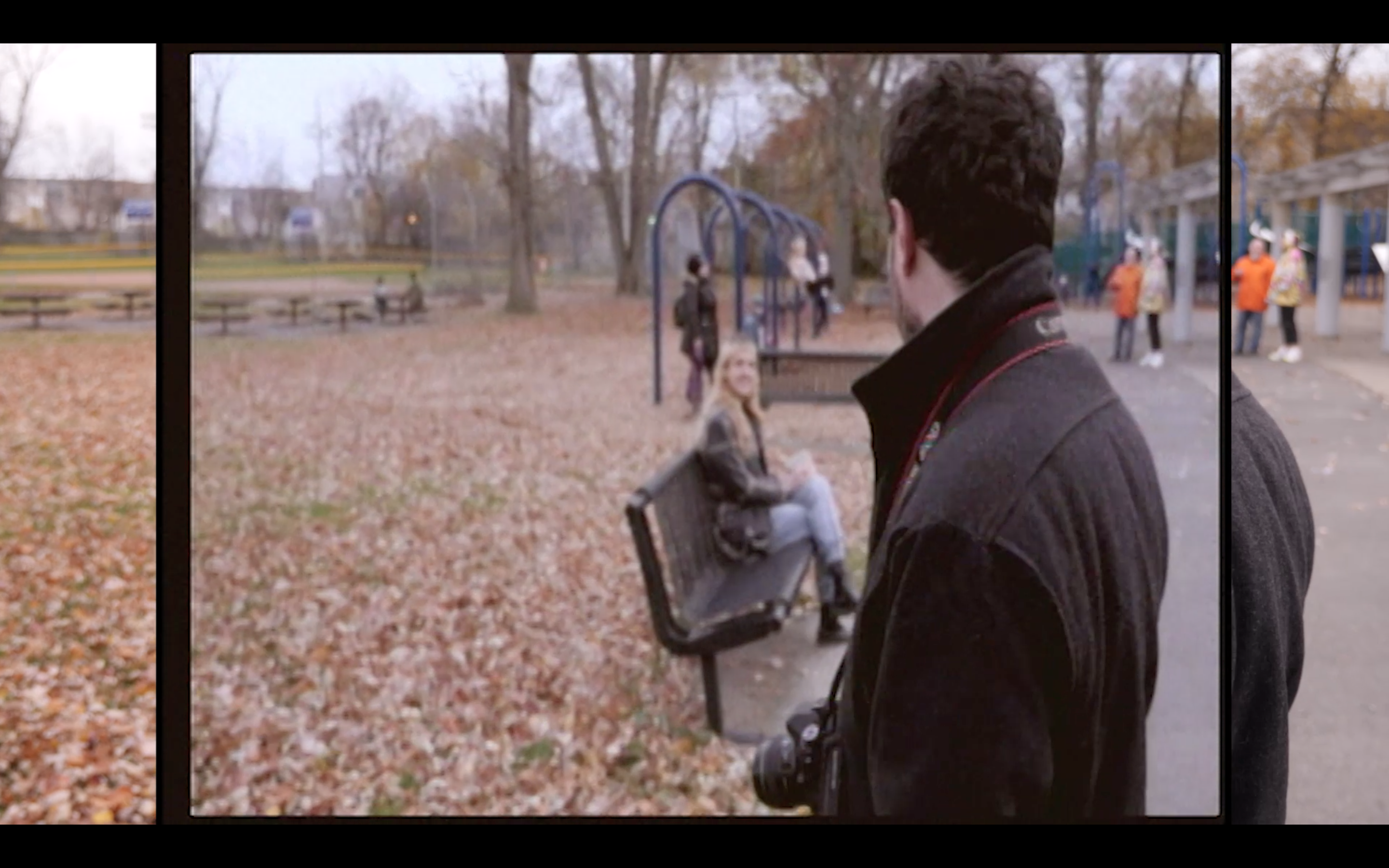 Genre: Meta-Narrative
Format: HD & Experimental Video 23.98 FPS
Runtime: 16:02 Minutes

Log Line: A filmmaker sets out to complete it with by combing the documentary with metanarrative. By recording himself in the production he is exposed to outsiders who interrogate and rebuke the intention he struggles to find.

Synopsis: A filmmaker named Mike reviews his documentary Discarding Earth, a film that features decayed and emerging urban landscapes. From the privacy of monitors, a smartphone, and then on to a theatrical projection. Released, Mike feels that the film is incomplete due a lack of audience response. Later on, he decides to expand its production by adding another camera. His desire to find the better way to make the film inspires him to to record himself making the film.

Once in the movie he encounters three strangers: The Reader, The Vlogger, and The Poet. The Walker is a man full of angst who criticizes the Mike as a fetishisizer of the city and to go elsewhere, so he gets a crew to follow him. The Vlogger is an amateur movie maker who wants to capitalize on abandoned building rejects Mike interpretation as to what lead to its condition. Dejected he looks for answers away from decay. In a park Mike is accosted by a woman on a bench named The Poet. Intrigued by the traveling production she convinces Mike to speak about the project. Mike doesn't understand why people disregard decay. The Poet distills and straightens out what he's trying to is too complex from a single film. The crew departs leaving them in their discussion.

CAST/CREW



The Filmmaker - Michael Chernoff

Audience Goer #1 - Heather Moore

Audience Goer #2 - Laura Maloney

Audience Goer #3 (V.O.), Videographer - Daniel Mauer

The Walker - Lewuga Benson

The Vlogger - Jack Kincaid

Boom Op - Nate Tomaselo

The Poet - Courtlin Byrd



Clapper - Tim Georger